When shopping online, it can be daunting to find the right product, the best seller, or the best value. People often have many high quality choices available but aren't always aware of them all or don't have an easy way to access them. For many merchants, connecting with customers in a digital environment is still relatively new territory or a smaller part of their business. However, consumer preference for online shopping has increased dramatically, and it's crucial that we help people find all the best options available and help merchants more easily connect with consumers online.
Free listings on Google Search
We recently announced that product results on the Google Shopping tab in the U.S. will consist primarily of free listings. This change has already produced a significant increase in user engagement, with both clicks and impressions up substantially for merchants, meaning consumers are finding more of the products they're looking for from a wider range of options. Sellers of all sizes are benefitting from this incremental traffic, particularly small and medium-sized businesses. And we already see that these changes will help generate billions of dollars in sales for retailers and brands in the U.S., on an annual basis.
Now, we're bringing free listings to the main Google Search results page in the U.S., helping shoppers choose the products and sellers that will serve them best, from the widest variety of options.
More business for your business 
Free listings in Google Search results makes your offers more accessible to the hundreds of millions of people who shop on Google each day, connecting you to more customers in more places—whether they're across the country or across the street. Initially, free listings on Google Search will appear in a product knowledge panel that shows buying options for a particular item, like this tea kettle: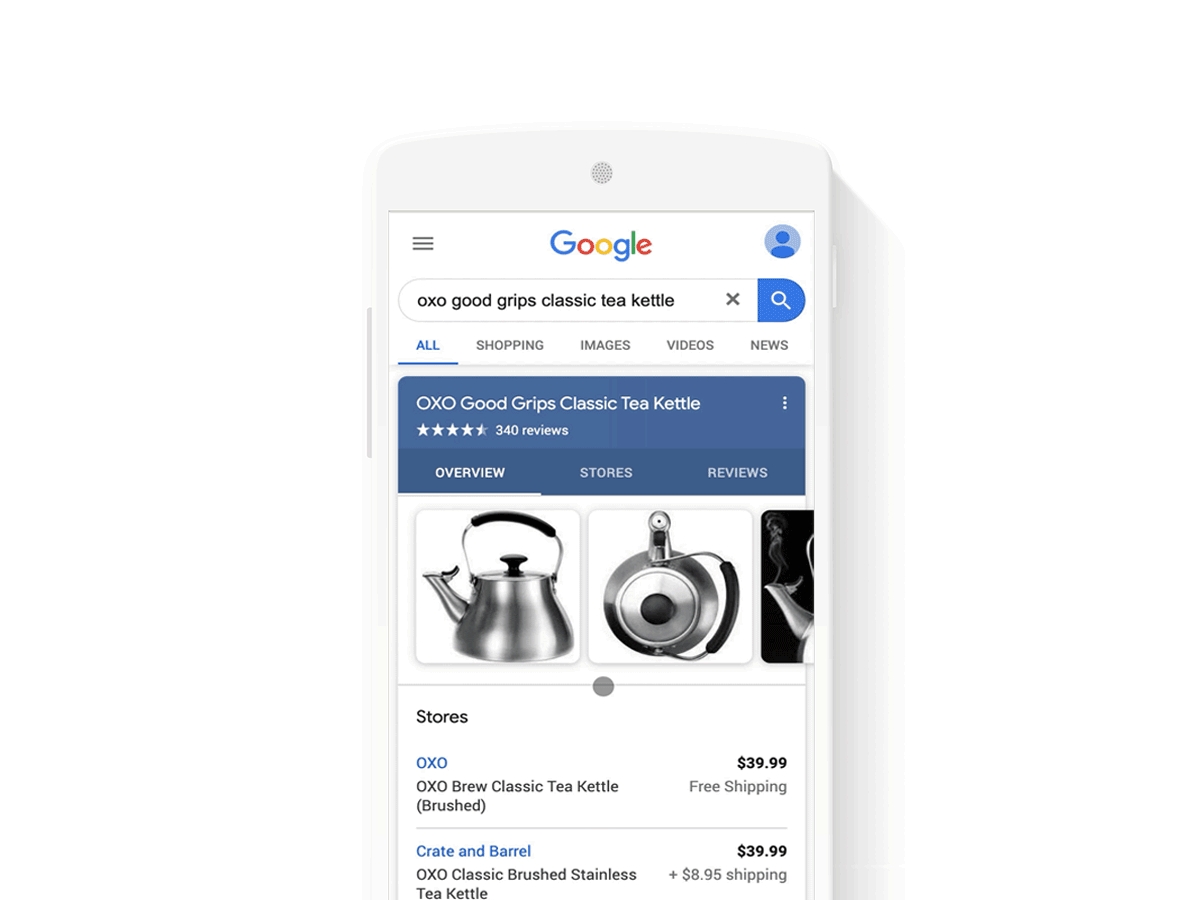 Today, the buying options in this panel are all sponsored links. Starting this summer, these listings will be free. We're rolling this out in the U.S., first on mobile, followed later by desktop. Learn more about listing your products for free across Google surfaces in our help center. 
Finally, Shopping ads continue to be a great tool for merchants to engage with consumers and will appear separately at the top of the page, clearly marked like Google's other ad units. Merchants can choose how to show up and shoppers can choose where to click.
Another step towards more choice
Free listings on Google Search are a big step forward in democratizing access to digital commerce, benefitting shoppers and merchants with more choices across the board. We'll have even more updates soon, so stay tuned.