Retailers have played a vital role in Asia Pacific's response to COVID-19, battling through a tough economic environment while serving their customers and communities, providing essential products and services, and supporting jobs. 
As more of the region's businesses turn to ecommerce, we've been focused on supporting them in every way we can—including helping retailers list their products online for free. We've been doing this in India and Indonesia since 2019, and now we're extending similar support across the broader region: making it free for merchants in Asia Pacific to list their products on the Google Shopping tab.  
For retailers, this change means free exposure to millions of people who come to Google every day for their shopping needs, regardless of whether they advertise on Google. For shoppers, it means more products from more stores, discoverable through the Google Shopping tab. For advertisers, it means paid campaigns can now be augmented with free listings. 
We made this change earlier this year in the United States, and retailers running free listings and ads got an average of twice as many views and 50 percent more visits. Small and medium-sized businesses saw the biggest increases.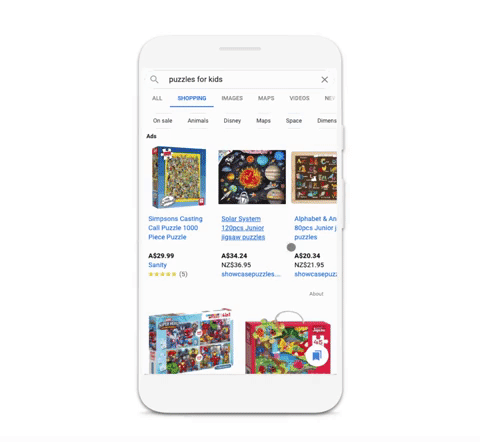 Asia's changing retail scene
This is a time of huge change in the way people shop and sell across Asia Pacific. Even before the pandemic, e-commerce was growing fast—in Southeast Asia, for example, the regional internet economy reached $100 billion in 2019, on its way to a forecast $300 billion by 2025. 
COVID-19 has sped up these trends. According to Google analysis, 53 percent of online shoppers in APAC say they'll choose to buy online more frequently after the pandemic, while almost 40 per cent of people who weren't online shoppers before say they intend to continue buying online. One in three have bought from a brand they didn't shop with before. 
To help retailers adjust to these changes, we're offering skills training through Grow with Google and sharing research and insights to inform their business decisions. We've launched a playbook and webinar series on how to better manage digital storefronts. And we're working closely with many of our partners to help merchants manage their products and inventory. This includes global partners like Shopify, and those across the region, including Haravan in Vietnam, Shopline in Taiwan and Hong Kong, and LnwShop in Thailand. 
In advancing our plans with Google Shopping, we hope to build on these programs, providing extra support and relief for Asia Pacific retailers when it's needed most.  
What's next? 
Existing users of Merchant Center and Shopping ads don't have to do anything to take advantage of the free listings. For new users of Merchant Center, we'll continue working to streamline the onboarding process over the coming weeks and months.
We're looking forward to working even more closely with retailers throughout Asia Pacific, helping shoppers find the products they need more easily, contributing to the recovery from COVID-19, and preparing for longer-term change in regional commerce.