Each day, hundreds of millions of people do shopping-related searches on Google. Now, we're making the places where people come to browse and explore products on Google shoppable. These new shopping experiences let people shop and purchase frictionlessly right where they already turn to for research and inspiration: Search, Google Images, YouTube and a redesigned Google Shopping destination.
The new Google Shopping experience
This year we're unveiling a redesigned Google Shopping experience with new, immersive ways for shoppers to discover and compare millions of products from thousands of stores. When they're ready to buy, they can choose to purchase online, in a nearby store and now directly on Google. For retailers and brands, it brings together ads, local and transactions in one place to help them connect with consumers at the right time.
Shoppers will have a personalized homepage on the Shopping tab where they can filter based on features they care about and brands they love, read reviews and even watch videos about the products. For example, if they're looking for headphones, they can filter for wireless and the brand they're looking for..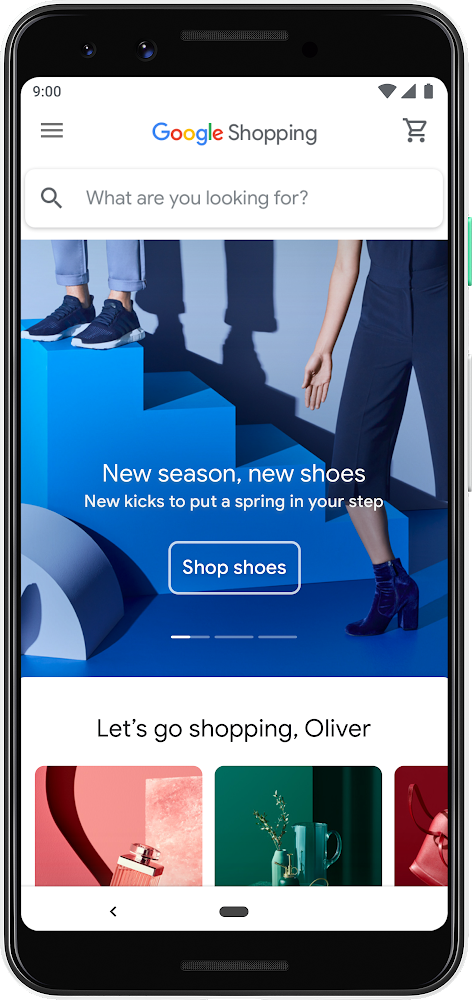 The blue shopping cart on the item shows shoppers they can seamlessly purchase what they want with simple returns and customer support, backed by a Google guarantee. So people can buy confidently, knowing Google is there to help if they don't get what they were expecting, their order is late, or they have issues getting a refund. With this new experience, we're merging the best of Google Express with Google Shopping.
If you're a Shopping Actions merchant, your products will automatically be part of this new easy purchase experience on Google Shopping, Google.com and the Google Assistant. Later this year, we will also expand Shopping Actions to other Google surfaces including YouTube and Google Images.
Get discovered in more places
Consumers' expectations for useful, swipeable and visual experiences have risen dramatically. Today, shoppable ads on Google Images allows you to highlight multiple products within your sponsored ad. We're also bringing Showcase Shopping ads—a highly visual ad format that incorporates rich lifestyle imagery—to even more surfaces like Google Images, the feed on Discover, and soon YouTube, places where we know people are looking for inspiration and ideas. On average, we see about 80% of traffic from Showcase Shopping ads to retailer sites are from new visitors just discovering the brands.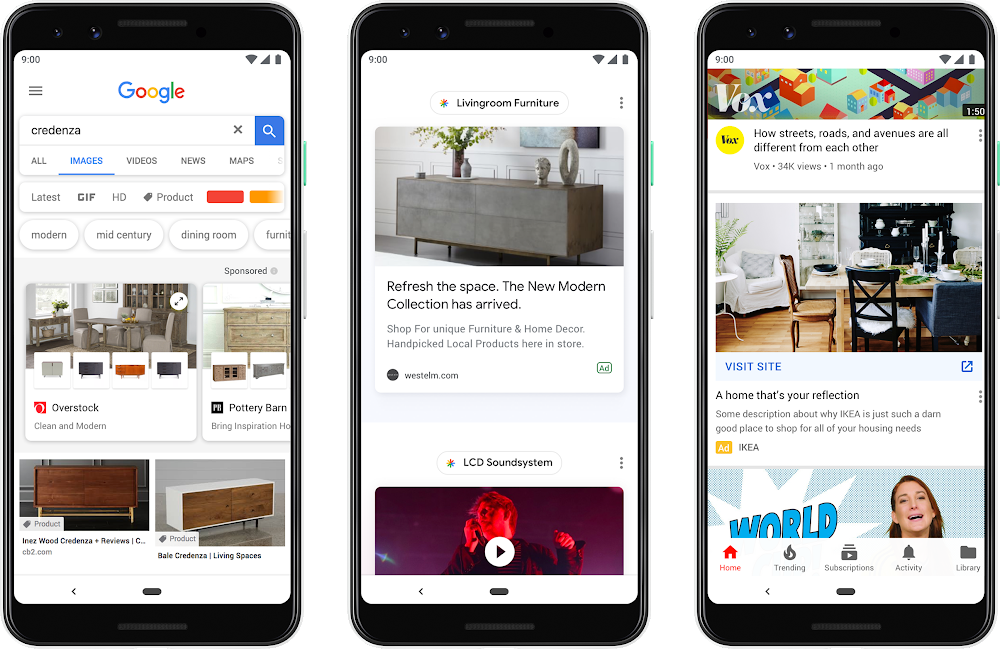 Drive more shoppers in-store
We're also making it easier for shoppers to buy in your stores. Today, we have over 2 billion store offers mapped to physical store locations globally, discoverable by our current local ad formats like local inventory ads. In a recent study we commissioned, we've seen that 45% of global shoppers currently buy online, pick-up in-store, which offers them a more flexible way to purchase and receive their items. That's why we're making it even easier for you to offer buy-online, pick- up- in-store service through your Shopping ads. Now, all you need are product landing pages on your site that show when pick-up in- store is available, and a local inventory feed in Merchant Center, which indicates which items you have in stock. Additionally, you can indicate which items you can quickly ship to store for in-store pickup.  If you are interested in joining the new buy-online, pick-up-in-store beta experience, please fill in this form.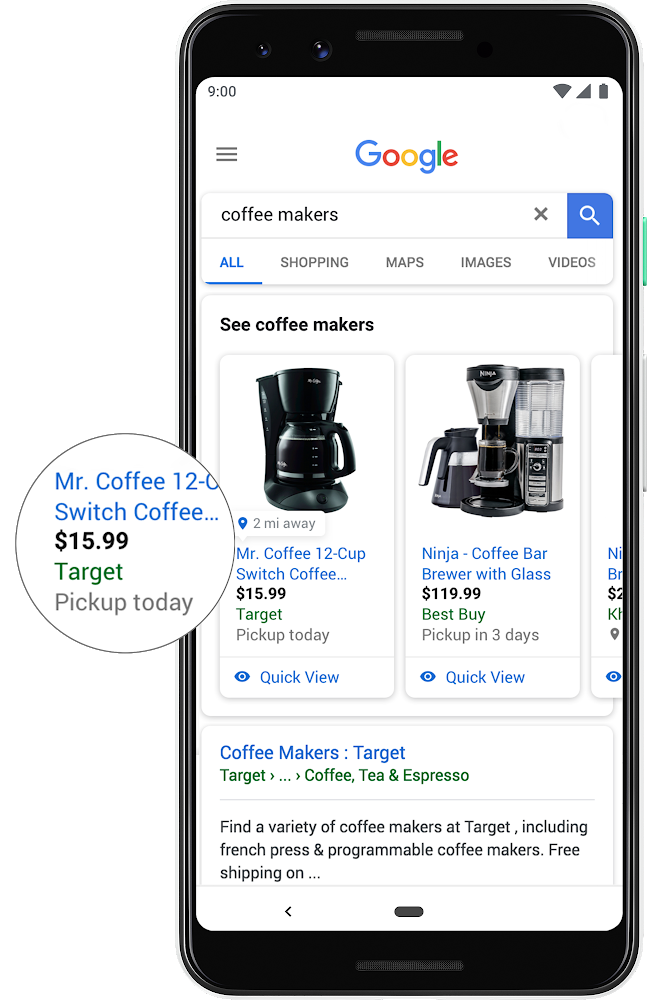 Higher-performing Shopping campaigns for retailers and brand manufacturers
Smart Shopping campaigns, announced last year at Google Marketing Live, use machine learning to optimize not only performance based on your goals, but also where your Shopping ads show—on Google.com, Image Search, YouTube and millions of sites and apps across the web. In addition to optimizing for online conversions, Smart Shopping campaigns will soon help you drive more shoppers in-store by allowing you to optimize for store visits and by displaying your local inventory information.
Customers have seen great results in the year since Smart Shopping campaigns launched. For example, Magazines.com worked with Rakuten Marketing to drive a 180% increase in revenue with Smart Shopping campaigns over Black Friday. And other customers see success with Smart Shopping campaigns, too: 80% of advertisers who have tried both Standard and Smart Shopping campaigns, now use Smart Shopping campaigns for the majority of their Shopping ad investment in the last year.
You'll just need a product feed, a remarketing list and conversion tracking to launch your first campaign. You can also seamlessly join through an ecomm platform integration, like Shopify, or our new Shopping integration with Magento.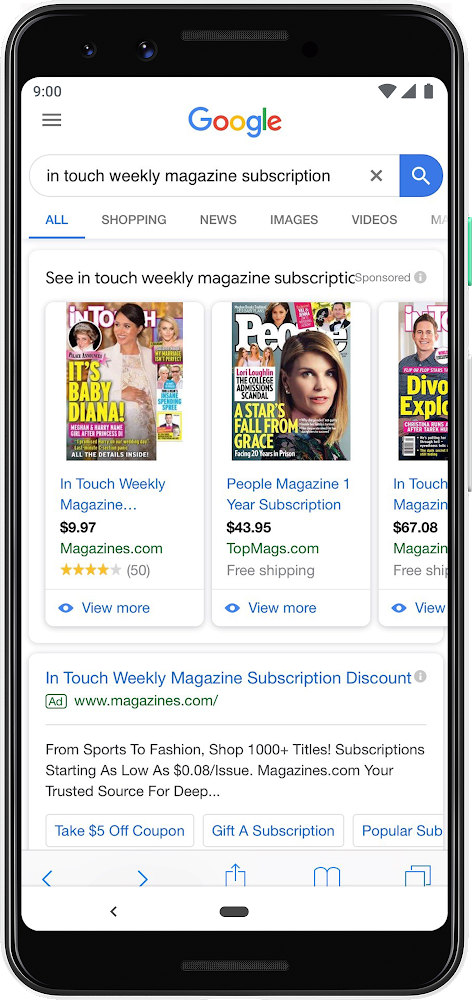 Finally, retailers and brand manufacturers have been looking for more ways to partner together in their digital marketing campaigns to reach online shoppers. Shopping campaigns with partnersallow brands to use their own budgets to help promote priority products in retailers' Shopping campaigns. This helps to drive more visibility, traffic and sales for both the brands and their retail partners.
The Estée Lauder Companies and one of their top retailer partners ran this type of Shopping campaign to boost sales of their branded designer fragrances with that retailer—both online and in stores. As a result, click share on Shopping ads for The Estée Lauder Companies' fragrances at their partner retailer increased by 70% on Google.
If you're interested in joining the Shopping campaigns with partners beta, fill out this form.