With so many people around the world turning to online shopping this year, advertisers need to measure how effective their digital campaigns are at driving online sales. What's more, data-protection authorities in Europe may now require many businesses to obtain consent from users on their digital properties for activities related to advertising and/or analytics—impacting advertisers' understanding of how users are converting on their sites.
Last month, we shared that we've integrated our ads systems with the IAB Europe's Transparency and Consent Framework (TCF) v2.0. For businesses that choose to use this method to gather user consent, Google's ad systems will read and respect the Transparency and Consent String, so businesses can comply with applicable regulations.
For advertisers who choose not to use TCF v2.0, we're introducing a new solution to offer more flexibility in how they use Google tags alongside their user consent tools. Consent Mode introduces two new tag settings that manage cookies for advertising and analytics purposes for advertisers using the global site tag or Google Tag Manager. These two settings can be used to customize how Google tags behave before and after users make their consent decisions – helping advertisers more effectively measure conversions, while respecting user consent choices for ads cookies and analytics cookies.
Using Consent Mode with Google's ad platforms
Attributing conversions to the campaign that drove them is a key priority for advertisers. It helps them better optimize campaign bids and reallocate budget towards the best performers. With Consent Mode, advertisers can achieve greater insight into conversion data while also making sure that the Google tags helping them measure conversions are reflecting users' consent choices for ads cookies.
Once Consent Mode is implemented, advertisers will have access to a new tag setting, "ad_storage," which controls cookie behavior for advertising purposes, including conversion measurement. If a user does not provide consent for ads cookies, Google tags will not use cookies for advertising purposes.
Let's say someone visits your website and makes their consent selection for the use of ads cookies on your cookie consent banner. With Consent Mode, your Google tags will be able to determine whether or not permission has been given for your site to use cookies for advertising purposes for that user. If a user consents, conversion measurement reporting continues normally. If a user does not consent, the relevant Google tags will adjust accordingly and not use ads cookies, instead measuring conversions at a more aggregate level.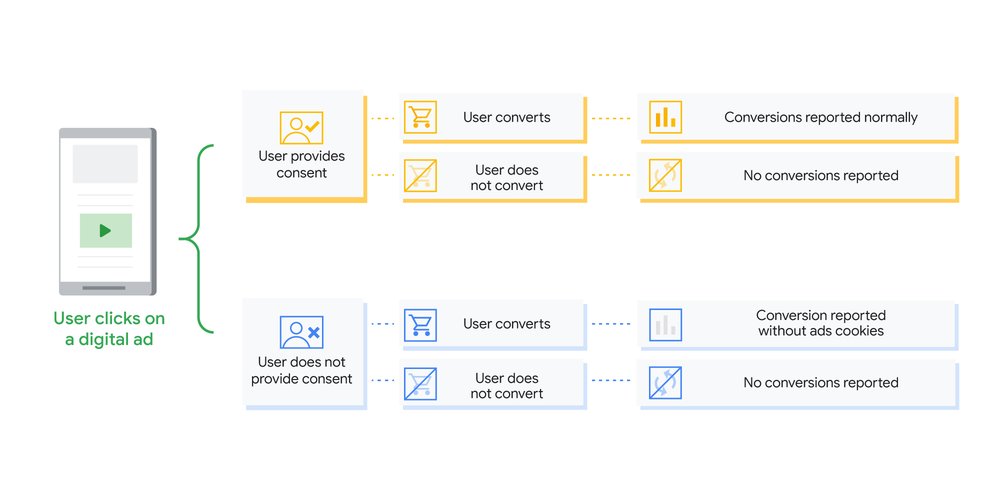 With Consent Mode, campaigns running on Google Ads, Campaign Manager, Display & Video 360, and Search Ads 360 will be able to continue reporting conversions – while respecting users' consent choices for ads cookies. And because you're able to retain conversion measurement in your campaign reporting, you'll be able to continue attributing conversions to the right campaign and optimize your campaign bidding efficiently.
Consent Mode also works with Google Analytics. This means that Analytics will be able to understand and respect user consent for ads cookies. For example, when the "ad_storage" tag setting is disabled for unconsented users, Analytics will not read or write ads cookies, meaning that optional features that rely on Google signals, like remarketing, will be disabled.
Using Consent Mode with Google Analytics
In addition to the "ad_storage" tag setting, Consent Mode provides advertisers with a new tag setting, "analytics_storage," which controls analytics cookie usage. Let's say you would like to request consent for both analytics and ads cookies from users on your website. You can use Consent Mode to update Google tag behavior based on the user selection for each type of cookie. Analytics will adjust data collection based on user consent for each of the "ad_storage" and "analytics_storage" settings. For example, if a user does not provide consent for ads cookies (and therefore advertising purposes are disabled), but does provide consent for analytics cookies, advertisers will still be able to measure site behavior and conversions in Analytics as the "analytics_storage" setting will be enabled.
Consent Mode is available in beta to a limited number of advertisers that operate in Europe and already use the global site tag or Tag Manager. To learn more about the feature, visit our Help Center here.
If you're interested in getting started with Consent Mode, please reach out to your Google account team. Implementing Consent Mode requires adding a few lines of code above your global site tag or Tag Manager container. To help with this process, we have partnered closely with several Consent Management Platforms. A few are already integrated with Consent Mode and are ready to help.

Changes designed to improve user privacy are continuing to impact the digital advertising ecosystem, and we're committed to helping your business navigate this new environment. To learn more about steps you can take, download our privacy playbook. And stay tuned for more new capabilities to help you manage and respect user consent choices for ads and analytics cookies across platforms.