In the last few months, COVID-19 has impacted businesses in profound ways. Throughout that time, I've heard from organizations, large and small, how they're staying connected with customers through technology. This has always been core to my team's purpose, but we can do more to help businesses and nonprofits through this crisis.
Today we're announcing a $200 million increase to our annual Ad Grants commitment, to offer a total of $1 billion to better support nonprofits. This $1 billion helps nonprofits around the world that are tackling pressing issues like COVID-19 response and recovery, especially in developing economies. And we're doing more.
Typically during this time of year, we gather at Google Marketing Live, our annual event to discuss new products and hear feedback from you. In lieu of our in-person event, throughout this summer we'll host "virtual product roundtables" with our product managers, announce a number of new products, share new insights and kick off a new weekly video series, The Update on Think with Google, discussing industry trends and best practices. 
Helping businesses and organizations recover is the first topic we'll explore. Today we're sharing updates for small businesses ahead of a Google-wide initiative, International Small Business Week, taking place June 22-27. This is a week dedicated to celebrating small businesses when we'll share tips, trainings and products to help them get back on their feet. 
Helping consumers connect with businesses 
As people spend more time at home, we've seen searches for local services, like "carpet cleaning" or "air conditioning repair" increase by 50 percent in recent months. We're now making it easier to book these services directly in Google Search on mobile through Local Services Ads in the U.S. Local Services Ads help people discover and connect with trustworthy, local professionals backed by the Google Guarantee. Later this month, we're also launching a new mobile site for the U.S. and Canada, to help more people find, compare and book nearby service providers faster.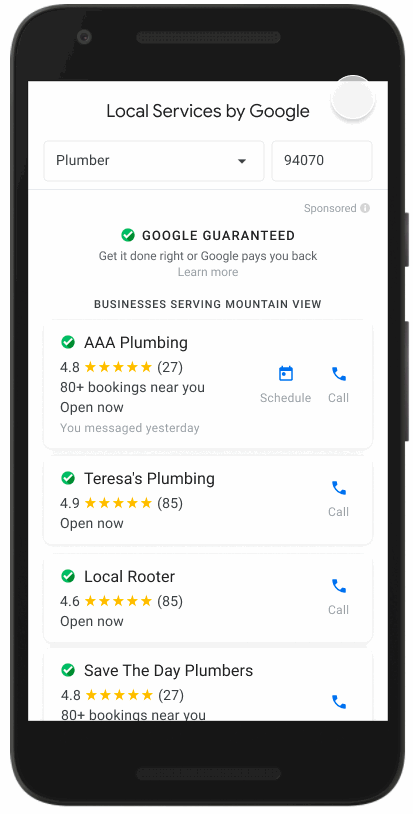 As people search for products they urgently need and limit their in-person store interactions, they're looking for real-time updates on product availability at local stores. Searches for "curbside pickup" and "in stock" have surged by more than 70 percent in recent months. Our goal is to help people find and buy the things they need, quickly and easily. Starting today the Shopping tab will show helpful local store information, including product availability, locations, and fulfillment options like delivery and curbside pickup. This information will show up in all countries where the Shopping tab is available.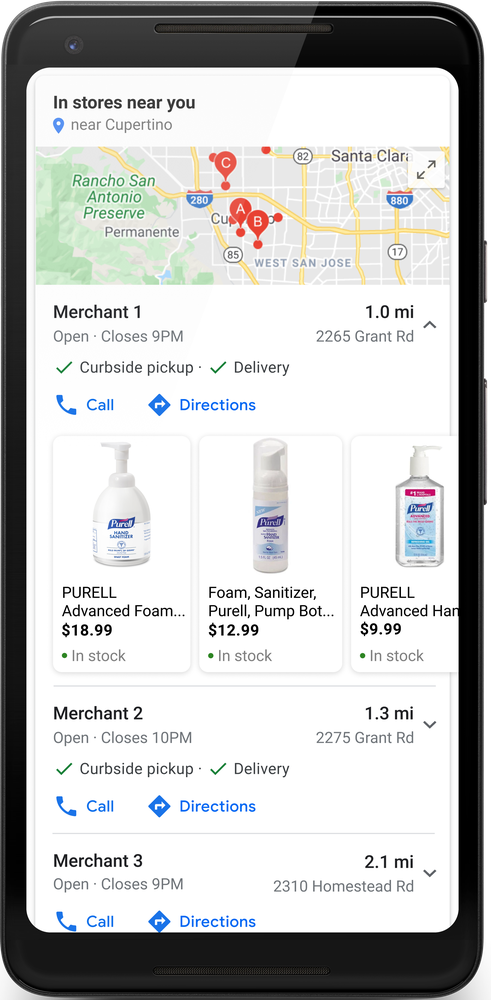 Helping businesses connect with customers
For many small businesses around the world, digital tools have become a lifeline this year. 1 in 3 small business owners say that without digital tools, they would have had to close all or part of their business. With businesses at various stages of digital transformation—some are online, some are halfway there and others have a long way to go—we're committed  to helping businesses get online and grow with easy-to-use tools.
To help businesses quickly improve their online presence, today we're introducing Grow My Store to retailers in the U.S. In Europe, Grow My Store has been an effective way for many small retailers to get quick tips on how to improve their online store and understand how they are doing compared to peers in the industry. Businesses just need to enter their website URL into the tool and within minutes they will get a custom report. 
To help make local businesses more discoverable, this week we're introducing Local Opportunity Finder. Enter the name of your business and Google will provide personalized suggestions on how to make improvements to your Business Profile on Google. For example, ensuring your opening hours are current, adding curbside pickup information, or uploading a photo that represents your business.
Finally, to help small business advertisers easily promote their businesses, we've expanded Smart campaigns to 150 countries and now we're making it easier and faster to sign up using the Google Ads app. You can set up a Smart campaign and create your first ad in just 15 minutes while on the go. And starting today, you can use Smart campaigns to display a prominent, square-shaped Google Maps pin with your business category logo, highlighting specific services that you offer, like curbside pickup or delivery. We're bringing Promoted pins to Smart campaigns advertisers for free through the end of September.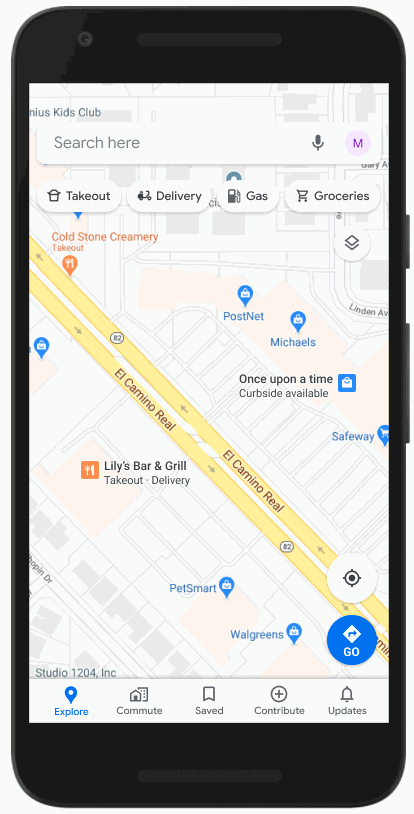 What's Next
Upcoming episodes of The Update on Think with Google will provide exclusive access to industry leaders, like George Hanson, Chief Digital Officer at Panera Bread, and Marla Kaplowitz, President and CEO of the 4As. In addition, my team of product leaders will use this series to share upcoming product innovations designed to make it easier to manage your marketing.
The Update Image 1 – Calendar.jpg

The Update Image 2 – Calendar.jpg

The Update Image 3 – MOs.jpg
We look forward to connecting with you virtually through our virtual roundtables and The Update. Until then follow us on the Google Ads blog for the latest product announcements.